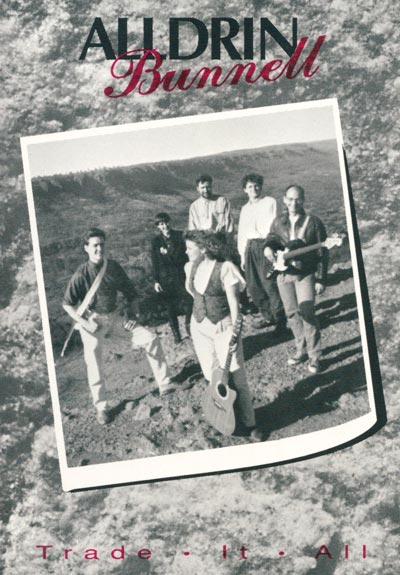 Trade It All
PRODUCED AND ENGINEERED BY LOREN ALLDRIN
Co-produced by Shirley Bunnell
Recorded and mixed at Back Room Studios, Chico, CA
Shirley Bunnell: Lead and background vocals
Loren Alldrin: Guitar, background vocals, drum and keyboard programming
Eric Schrepel: Keyboards
Ken MacKell: Drums
James Stuart: Bass
Corinn Hooper: Background vocals
Special thanks to:
All band-husbands and band-wives for your patience and support
Steve Bunnell for sticking around and giving it a chance. I couldn't have done this without you! xoxo
Leo Gunther for all the great toys
Chuck Alldrin for the Back Rooms
Sarah L.S. for donating your time and energy
Bonnie Scott for all your hard work
Russell Damien for our radio debut
Mike Hayes and Tami Vago for believing in us
Everyone at Ridge Bible Fellowship - our biggest fans!
Design/Production: Loren Alldrin and Sarah L.S.
Photography: Sarah LS. and Stewart Williams
This album was recorded on eight tracks. (It can be done!)
Copyright (c) 1991 by Loren Alldrin and Shirley Bunnell
Unauthorized reproduction of this recording is prohibited by Federal Law
Trade It All
Loren Alldrin, Shirley Bunnell and friends recorded "Trade It All" in 1991 on a meager eight-track reel-to-reel recorder. In 2016, Loren found an original master tape and was able to salvage seven of the 10 original songs. Songs eight and nine were pulled from a cassette tape that somehow survived 25 years of baking in Northern California heat. All songs were remastered by Loren using the latest tricks and tools. Enjoy!
1) See You Again (click to play, right- or option-click to download)
Words and Music by Loren Alldrin and Shirley Bunnell
This song is dedicated to Mike Carpenter, who taught us what ministry is all about.
1 Thessalonians 4:13-17
2) Your Smile
Words and Music by Loren Alldrin and Shirley Bunnell
Genesis 2:18-24
3) Far Away
Words and Music by Shirley Bunnell and Loren Alldrin
2 Peter 3:8-9
4) Turning It Back
Words and Music by Shirley Bunnell and Loren Alldrin
Romans 12:1
5) Where Would I Go
Words and Music by Shirley Bunnell and Loren Alldrin
John 6:63-69
6) Trade It All
Words and Music by Loren Alldrin and Shirley Bunnell
Philippians 3:7-8
7) Live Right
Words and Music by Loren Alldrin and Shirley Bunnell
Titus 2:11-12
8) Ashamed
Words and Music by Shirley Bunnell and Loren Alldrin
Matthew 16:24-26
9) Be More Real
Words and Music by Loren Alldrin and Shirley Bunnell
1 Corinthians 13:12, John 14:21